Essentials autophagyBOOST Multi-Pack
Regular price
$89.00 USD
Sale price
$79.00 USD
Unit price
per
Sale
Sold out
High-quality, purity-tested, autophagy-inducing micronutrients packaged into convenient daily sachet packets.
Contains 30 daily servings of Turmeric Extract, Green Tea Extract, and Resveratrol+ supplements in a convenient monthly package

Formulated to induce autophagy and cellular renewal

Free of artificial colors or flavors

Personalized and custom packed, n

on-refundable
*Please note this product does not contain spermidineLIFE®. If you would like spermidineLIFE® included in your daily supplement pack please see Essentials Autophagy Complete.
Shipping is offered for U.S. addresses only. Please allow 2-3 days for order fulfillment.
Switch Your Existing Subscription >>
Share
Ingredients

⬢ Turmeric Extract (500mg)

⬢ Green Tea Extract (300mg)

⬢ Resveratrol+ (200mg)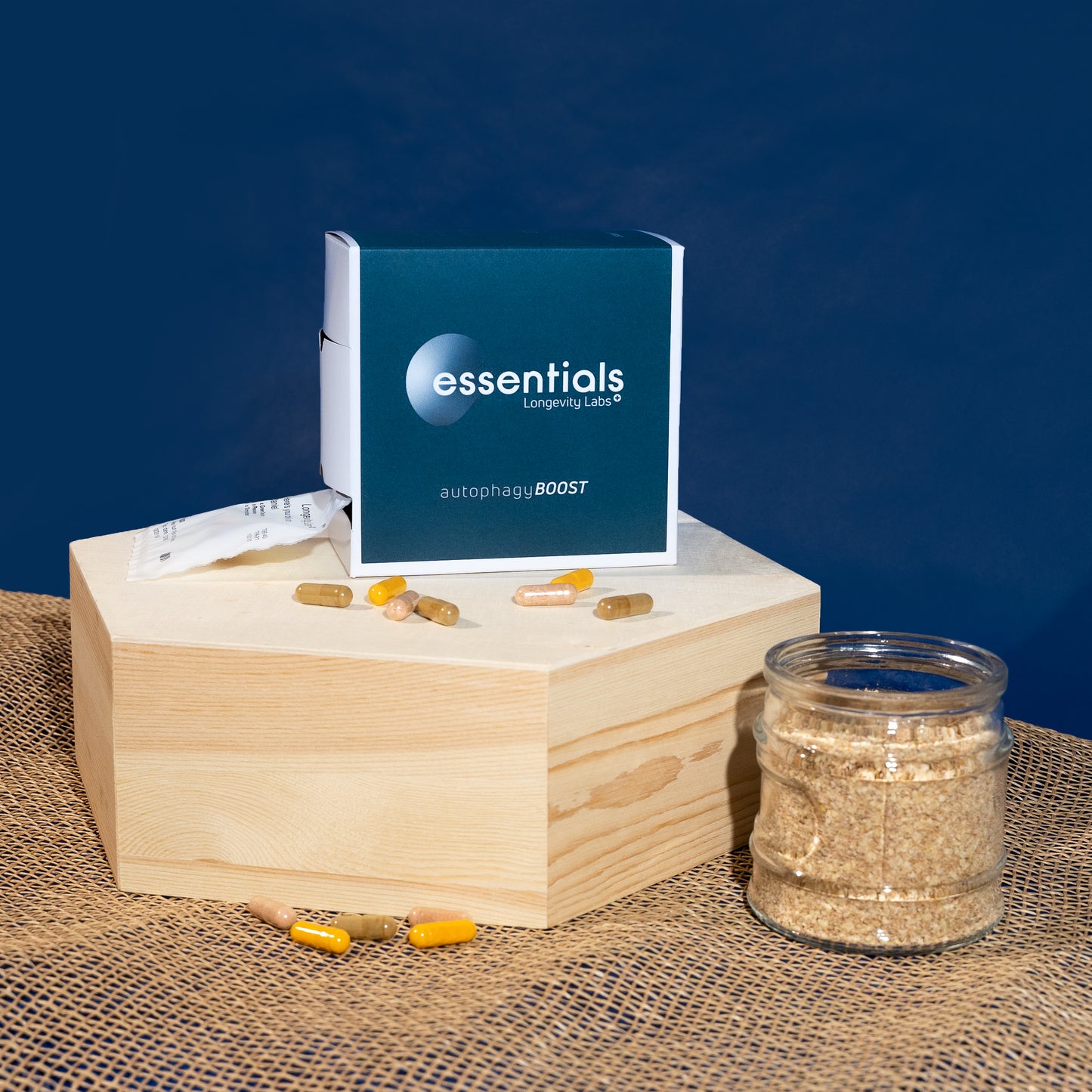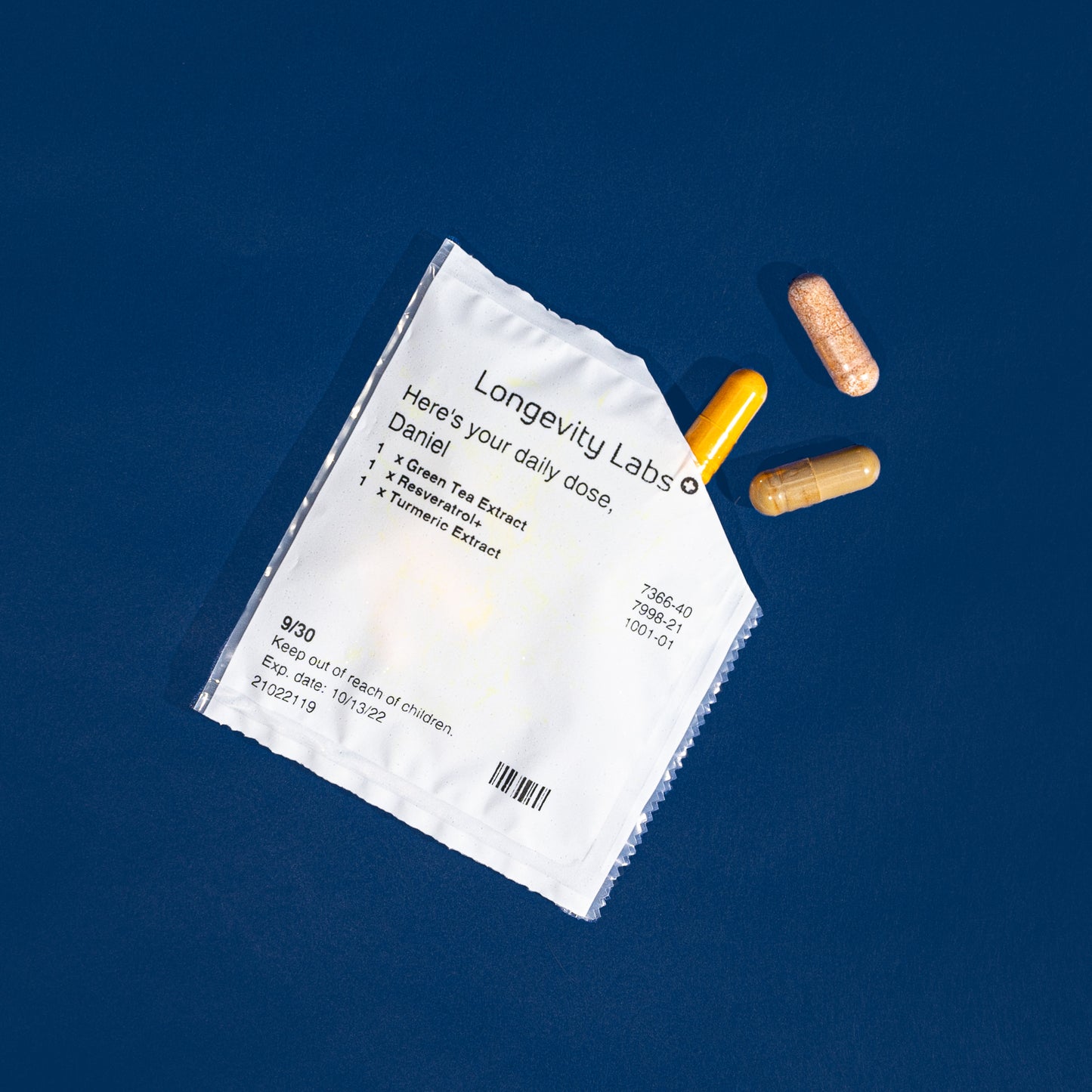 Change Your spermidineLIFE® Subscription
If you have an existing spermidineLIFE® subscription and would like to upgrade to an essentials product, please fill out the form below. Our team will notify you once your subscription has been updated. You will be charged on the next order date of your subscription.
Want to change your subscription now? Watch the video below to manage your subscription yourself.
Backed by Science

autophagyBOOST was created with one goal in mind, to optimize autophagy.

Conveniently Packed

Essentials autophagyBOOST comes in a convenient, 30-day package, saving money and reducing waste.

Trusted Sourcing

All of our supplements are manufactured in accordance with cGMP standards and tested by certified laboratories.
Induce Autophagy Without Fasting
Autophagy offers a range of health benefits, often induced through fasting, triggering the body's cellular renewal process. Autophagy rids damaged & aging cells of toxic cellular material, combating various age-related diseases and complications. But what if you could induce autophagy without giving up your favorite meal? Or amplify the effects of a fast? Our Essentials line was designed to do just that. Developed by our world leading scientists, Longevity Labs+® Essentials supplement packs contain the best-in-class micronutrients to help your body trigger autophagy. These ingredients work synergistically to ensure your body is undergoing consistent autophagy with or without fasting; have your cake and eat it too!
autophagyBOOST Ingredients
Turmeric Extract (500mg)

Recent studies have suggested that naturally-occurring curcumin, extracted from turmeric root, can induce apoptosis and autophagy through the suppression of mTOR.* (Included in BOOST, COMPLETE, and MAX levels)

Green Tea Extract (300mg)

Recent studies have suggested that polyphenol-rich green tea is capable of inducing autophagy by increasing Pl3 kinase and BECLIN-1.* (Included in BOOST, COMPLETE, and MAX levels)

Resveratrol+ (200mg)

Recent studies have shown that resveratrol, a natural polyphenol, may induce autophagy by directly inhibiting the mTOR-ULK1 pathway.* (Included in BOOST, COMPLETE, and MAX levels)
Autophagy - The Foundation of Cellular Renewal.
Autophagy, the ultimate cell-renewing process, can be triggered by micro-nutrients known as "fasting mimetics."  Spermidine is one of those key micro-nutrients.  Longevity Labs® are the world leaders in producing and distributing spermidine through its market-leading spermidineLIFE® brand.  
In an effort to continue contributing to our customers' autophagy journey and to further promote autophagy and cell renewal, we have now launched essentials by Longevity Labs® with the goal of bringing you all of your necessary fasting mimetics from one place in a convenient daily supplement package. 
With high-quality, purity-tested micronutrients packaged into convenient daily sachet packages, essentials by Longevity Labs® provides the perfect blend of curated, autophagy-promoting micronutrients.
Explore your level today, with either our autophagyBOOST, autophagyCOMPLETE, and autophagyMAX daily sachet packages, and enjoy the benefits of increased autophagy.
Specification comparison between products Essentials autophagyBOOST Multi-Pack, Essentials autophagyCOMPLETE Multi-Pack, Essentials autophagyMax Multi-Pack

Ingredients

spermidineLIFE

Green Tea Extract

Turmeric Extract

Resveratrol+

Berberine

NMN

Quercetin