spermidineLIFE® Ultra+ 2150mg Dietary Supplement
Regular price
$149.00 USD
Regular price
Sale price
$149.00 USD
Unit price
per
Sale
Sold out
spermidineLIFE® Ultra+ is the newest advancement in polyamine supplementation. Delivered in a convenient 30-day supply of our proprietary CelVio® Complex sachets, spermidineLIFE Ultra+ has over three times the polyamines of our original product.
30 sachet packets containing 2,150 mg of Celvio® spermidine-rich wheat germ extract

Packaged in easy-to-use and convenient sachet packets

Water soluble; can be added to food or beverages

All-Natural, Vegan & 100% Non-GMO

Made in Austria
Share
Ingredients

Serving Size

Serving Size: 1 sachet (3g) 

Servings Per Container: 30 sachets

⬢ 2,150mg spermidine-rich CelVio® Wheat Germ Extract™ 

⬢ 0.18mg Vitamin B1 (Thiamine) 

⬢ 1.65mg zinc

Other Ingredients 

Beta-Carotene (for color), Tricalcium phosphate, Lemon juice powder, Apple juice powder

Warnings

spermidineLIFE® Ultra+ includes approximately 2mg of gluten per daily dose. Please consult with your physician to determine if spermidineLIFE® Ultra+ fits within a gluten-sensitive diet.
Directions

Adults take one sachet daily dissolved into 4 fl oz cold water or beverage, or as recommended by a healthcare provider. Store in a cool, dry place. 

Caution: Consult your healthcare professional before taking new supplements, if taking anticoagulants, or if pregnant or breastfeeding. Not intended for children under 18.

Tamper Evident: Do not use it if the seal is broken. Do not use a sachet if ripped or torn.
Specifications

Product Name

spermidineLIFE® Ultra+

Distributor

Longevity Labs, Inc.

Denver, CO 80202

Product Origin

Graz, Austria

Description

spermidineLIFE® Ultra+ is a dietary supplement made from natural wheat germ extract with high spermidine content for drinking and serves with thiamine and zinc to intensively support the body's own cell renewal.

Serving Size

1 sachet daily

Sachets

30

Days of Supply

30

Package Material

Paper

Ingredients

Wheat Germ Extract, Zinc, Vitamin B1 (Thiamine), Beta-Carotene (for color), Tricalcium phosphate, Lemon juice powder, Apple juice powder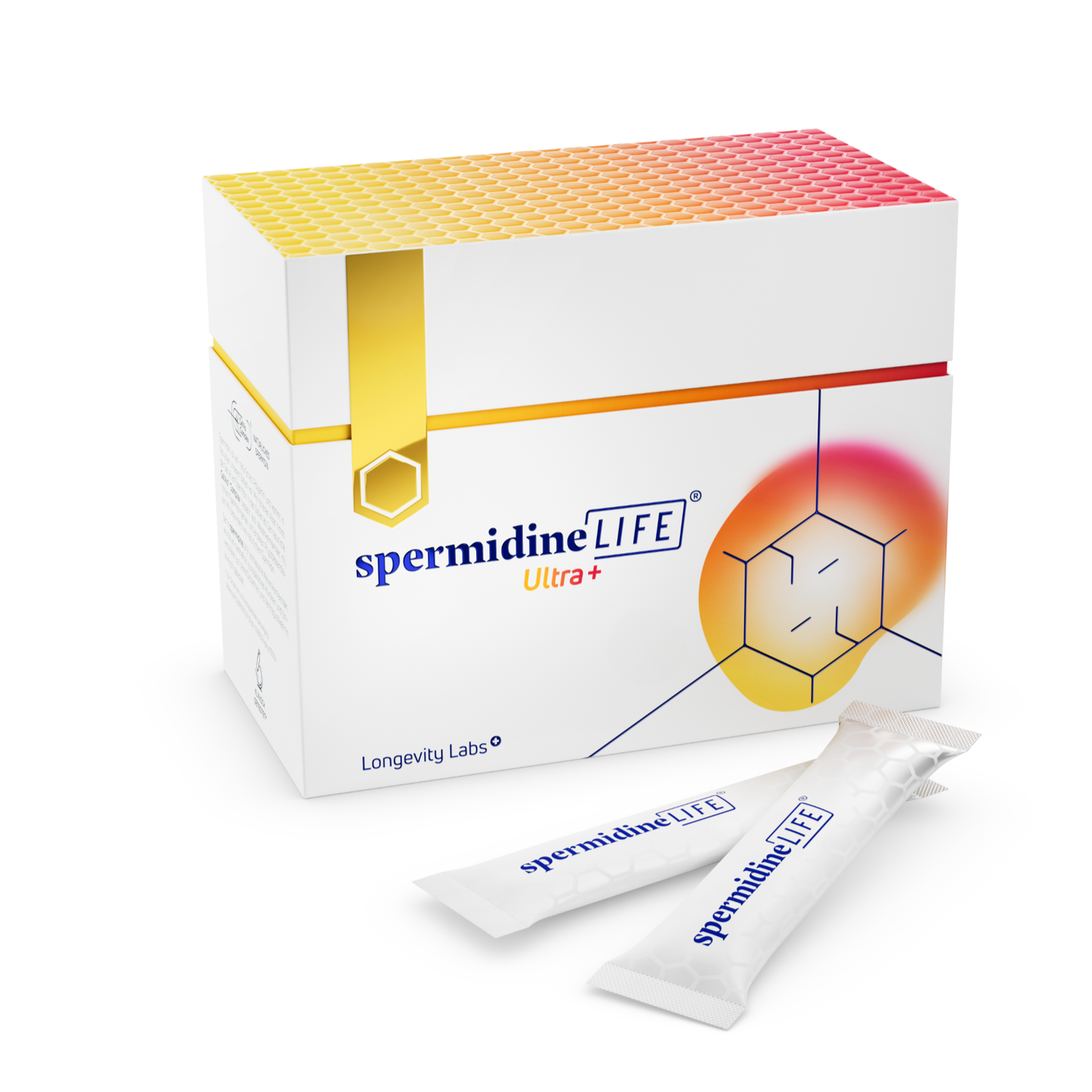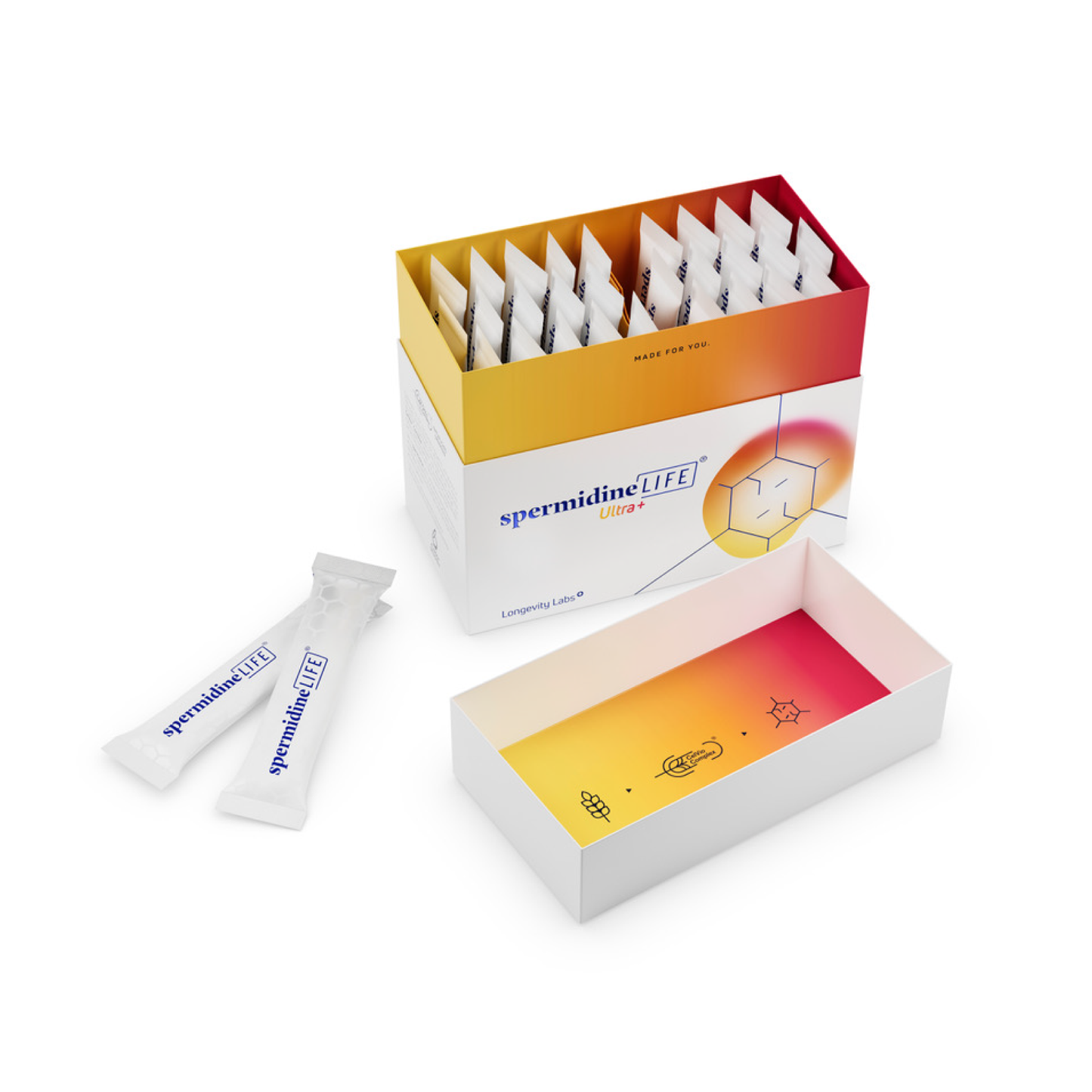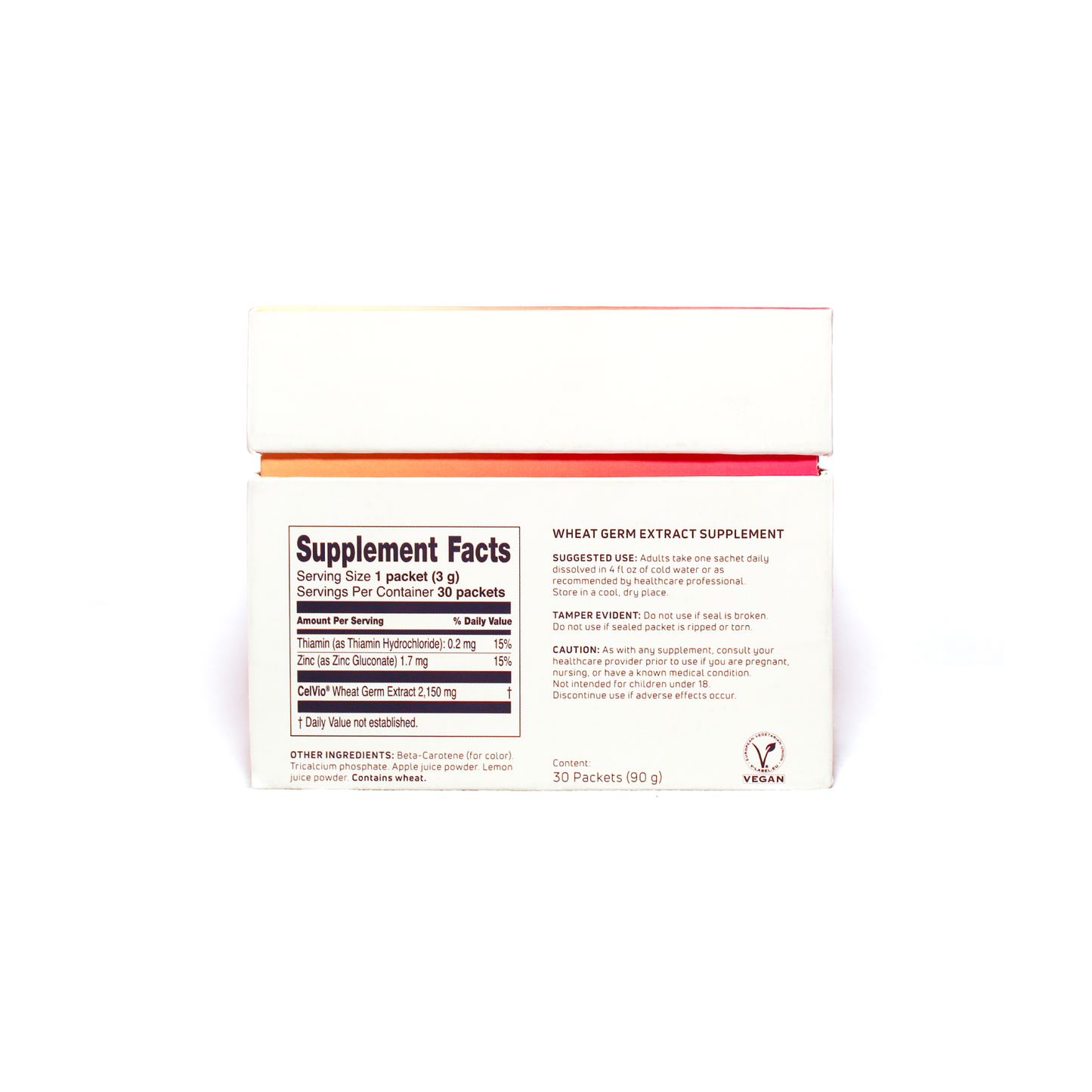 What is the CelVio® Complex?
The CelVio® Complex is the heart of our spermidineLIFE® innovations. Cel is for "Cella" (the cell) and Vio for "going or traveling" meaning the path or life cycle of the cell.
The unique feature of the CelVio® Complex is its 100% all-natural spermidine content. In our production we rely on pure nature, from the beginning to the end. Our European wheat germ is processed without any solvents or synthetic ingredients and combined with other micronutrients for highest efficacy.
Easy and Effective Spermidine Supplement
Take one 6mg
Celvio® sachet daily

Mix in with a glass of
water or beverage

Enjoy the benefits of
consistent Autophagy
Natural Spermidine. For you and your cells.
Nature is our role model. That's why we extract our spermidine only from a natural, non-GMO
wheat germ source. spermidineLIFE®, together with elite-level research partners, developed a cre-
ative extraction process that only uses purified water to remove spermidine from wheat germ.
After extraction, we apply a gentle vacuum to dry and preserve the sensitive spermidine—along
with all other important vital substances of the wheat germ extract.

We test every batch of our product for its spermidine content to guarantee that all
spermidineLIFE® products contain the highest quality and concentration possible.

spermidineLIFE® holds strict scientific standards from product development and raw material se-
lection to our finished product.
Specification comparison between products spermidineLIFE® 800mg Dietary Supplement, spermidineLIFE® Extra+ 1300mg Dietary Supplement, spermidineLIFE® Memory+ 1300mg Dietary Supplement, spermidineLIFE® Ultra+ 2150mg Dietary Supplement, spermidineLIFE® Pro+ 4300mg 10 Pack

Supplement Information

Modality

Our CelVio® sachet packs are formulated to mix with your favorite beverage.

CelVio® Dose (mg)

Days of Supply

Subscribe & Save