spermidineLIFE® Memory+ 1300mg Dietary Supplement
Regular price
$109.00 USD
Regular price
Sale price
$109.00 USD
Unit price
per
Sale
Sold out
spermidineLIFE® Memory+ 1300mg supports cell renewal and brain cells with an innovative combination of:

Natural spermidine-rich wheat germ extract
Brahmi powder
Saffron extract
Brain-activating micronutrients
Ingredients

Ingredients

Wheat germ extract with a high spermidine content, bacopa monnieri, saffron flower extract, with added zinc and thiamine.

Other Ingredients

Hypromellose, Magnesium stearate, Spirulina extract..

Active Ingredient Per Recommended Daily Dosage (2 Capsules):

1300mg spermidine-rich CelVio® wheat germ extract

Warnings

spermidineLIFE® includes approximately 1.3mg of gluten per daily dose. Please consult with your physician to determine if spermidineLIFE® Memory+ fits within a gluten-sensitive diet.
Directions

Intake

Take 2 capsules at the same time daily, with or without a meal.

General

Dietary supplements are no substitute for a balanced, varied diet and a healthy lifestyle. One package of spermidineLIFE® Memory+ is considered a "monthly supply" and contains 60 capsules. Net quantity 24g.

Storage and Consumption

Store in a dry place, away from heat and light and out of the reach of small children.

After opening, consume within 2 months.

Effectiveness

spermidineLIFE® Memory+ was developed for long-term use. The perceptibility of effects depends on the your respective state of health. We recommend an intake of at least 3 months.

Warnings

Contains wheat and gluten.

Not recommended for those who are pregnant or breastfeeding. Not recommended for children.
Specifications

| | |
| --- | --- |
| Manufacturer | TLL The Longevity Labs GmbH |
| Distributor | Longevity Labs, Inc.Denver, CO 80202 |
| Product Origin | Graz, Austria |
| Description | Spermidine-rich wheat germ extract for the promotion of cellular renewal |
| Serving Size | 2 capsules per day (1300mg) |
| Capsules | 60 |
| Days of Supply | 30 |
| Package Dimensions | 2" x 2" x 3.54" |
| Weight | 5.22 oz |
| Bottle Material | Plastic |
| Ingredients | Wheat germ extract with a high spermidine content, bacopa monnieri, saffron flower extract, with added zinc and thiamine. Other Ingredients: Hypromellose, Magnesium stearate, Spirulina extract. |
Share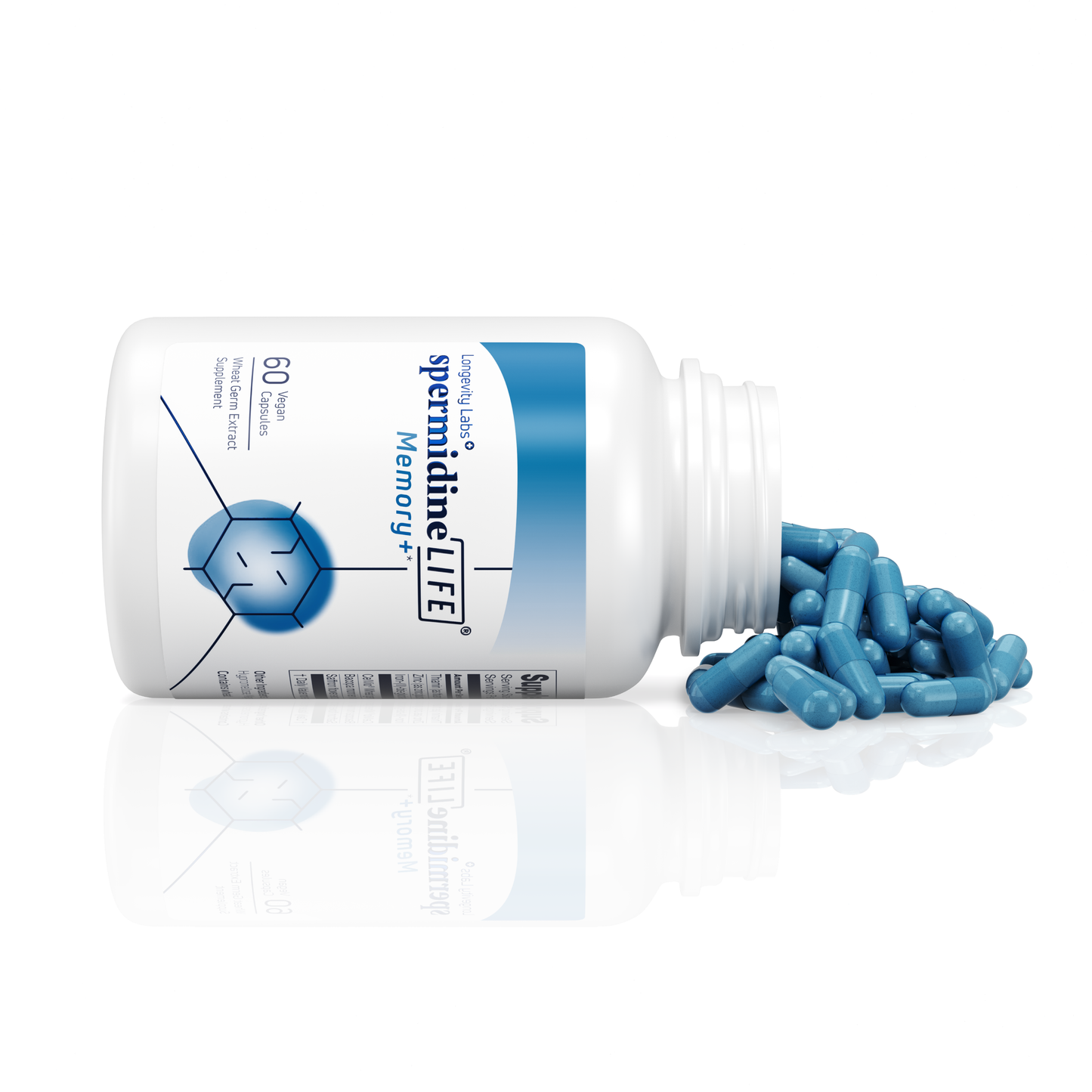 The essential ingredients contained in spermidineLIFE® Memory+ make it an ideal supplement to support our normal cognitive function and overall brain health. The nutrients thiamine, iron, brahmi and saffron extract contribute to reducing mental fatigue and decline. spermidineLIFE® Memory+ and its innovative 2-step combination makes it the optimal supplement for your brain cells. Step 1: Cell Renewal | Step 2: Boost Brain Performance
What is the CelVio® Complex?
The CelVio® Complex is the heart of our spermidineLIFE® innovations. Cel is for "Cella" (the cell) and Vio for "going or traveling"  meaning the path or life cycle of the cell. 
The unique feature of the CelVio® Complex is its 100% all-natural spermidine content. In our production we rely on nature, from beginning to end. The wheat germ is processed and combined with other micronutrients, without using any synthetic ingredients. 
Brahmi Powder:
The Brahmi plant, also known as water hyssop or as Bacopa monnieri, originally comes from southern Asia. For centuries it has been of great importance in Ayurvedic teachings. The ingredients brahmin, bacopa monnieri, as well as the flavonoids within them, are the reason researchers around the world have become increasingly interested in the plant. Brahmi is referred to as the "memory plant," with some research showing memory improvement and hand-eye coordination.
Saffron Extract:
Saffron is commonly known as "red gold." Until the 18th century, saffron was administered in the form of ointments, medical patches and balms. In Indian and Persian medicine, however, saffron has a long history of being used as a medication to normalize mental health. Even today the saffron plant maintains an excellent reputation for its potential among scientists worldwide. Over the past 10 years more than 1,300 scientific studies were published which show the balancing effect it promotes on our nerves, our mood and our temper. Today it is commonly used to support emotional balance and help support our cells to prevent common mental health issues


Spermidine:
Spermidine is a natural polyamine that exists in every cell in our bodies. With increasing age the level of spermidine in the body cells decreases. In collaboration with the University of Graz in Austria, spermidineLIFE® Immunity+ was developed from wheat germ extract with a high spermidine content. With notable effects of extending immuno-memory and combating inflammation, spermidine intake is critical for immune function, particularly into older age.
Specification comparison between products spermidineLIFE® 800mg Dietary Supplement, spermidineLIFE® Extra+ 1300mg Dietary Supplement, spermidineLIFE® Memory+ 1300mg Dietary Supplement, spermidineLIFE® Ultra+ 2150mg Dietary Supplement, spermidineLIFE® Pro+ 4300mg 10 Pack

Supplement Information

Modality

Our CelVio® sachet packs are formulated to mix with your favorite beverage.

CelVio® Dose (mg)

Days of Supply

Subscribe & Save
The Role of Cells in the Brain
The brain is arguably the most important organ in the human body, and is a vital part of the nervous system, connecting a number of neural pathways.

There are over 100 billion neurons that are the basis of our everyday cognitive functions and thinking processes. They drive our actions and control all bodily functions. In addition, these pathways are the home of our memories and emotions. In recent years, scientists have found that we continue to produce new neurons over the course of our lives. Approximately 1,400 new cells are produced in the hippocampus on a daily basis. The hippocampus is located inside the brain and coordinates our memories and our capacity to learn. During our lifetimes about one third of all brain cells are replaced. As we grow old, however, the number of cells that die inside our brain exceeds the number of cells we can regenerate. Brain cells and their connections become damaged or die and the overall cerebral mass decreases steadily. There are also a large number of by-products which are produced within brain's metabolism, which may compromise the proper functioning of the brain. Various scientists have conducted studies on cell renewal or autophagy, shown to be induced by spermidineLIFE Memory+, which appears to be vital to the mitigation of cognitive decline into older age.
Physical Exercise

Nutrition

Mental Health

Sleep

Medical Health

Social Interaction